Here at STEAM, we know how hard it is to quit smoking. Many users of electronic cigarettes have tried quitting cigarettes in the past (before e-cigs) and failed. I have been there myself!
Vaping is making it a whole lot easier. Vaping is what we would describe as a healthier alternative to cigarettes. It allows you to satisfy your nicotine cravings without the carbon monoxide, tar, and carcinogens.
So, you've made the decision to quit the cigarettes for a vape, but what device do you start with? Don't worry, we've got you covered with that aspect. We've chosen 3 vape devices which we think are the best to begin with in 2020. The key thing to remember is that all vapes do the same thing when it comes to the end product; producing vapour. Some have different settings, larger batteries, or are simply better quality.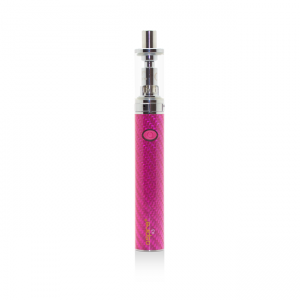 We love the K3 kit. It has been on the market for a long time and is still just as popular as it was when it first came out. That says something.
The K3 kit is a user-friendly vape kit designed particularly for new vapers to the marker. Aspire E-Cig are renowned for their quality and new user kits, so this is the perfect kit for a newbie. Convenient, economic, and lightweight, makes for a great vaping experience.
The device is operated by one single button. We often refer to this button as the power or fire button. You press the button 5 times within quick succession to turn the device on/off. With the device switched on, you hold down the fire button when you vape.
The tank has a 2ml capacity and comes with the Aspire Nautilus coils. The nautilus coils are used in a fair few of Aspires tanks. Known for being a reliable coil remaining consistent with flavour and vapour production.
The Aspire K3 kit is great for anyone looking to get their first device. With that being said, many of our customers who started with the K3 kit are still using it after using it for 6+ months. Definitely a highly rated device.
Specifications:
Tank capacity – 2ml
Battery capacity – 1200mAh
510 threading
Contents:
Aspire K3 Battery x1
Aspire K3 Tank x1
Nautilus 1.8 0hm coils x2
USB Charging Cable x1
User Manual x1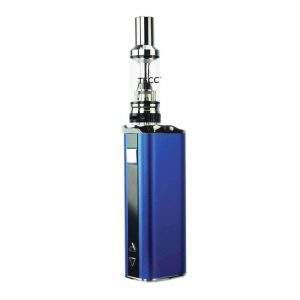 The arc 5 Kit by TECC is one of our longest serving devices. We have been stocking this kit since day 1 and watched them update the device over the years – we're now on the 5th version, which is a slightly more advanced vaping device offering you a longer lasting battery, adjustable settings, and display on the front.
Featuring the typical box design, which is to accommodate the larger battery which is built-in and has a capacity of 2200mAh. More than enough to last the average user a full day.
On the side of the Arc 5 kit, you will find three buttons. 2 arrow buttons, 1 pointing up and 1 pointing down. These are to adjust your wattage settings. The Square button at the top-end of the device is the fire button. This is what you press to vape, as well as turn the device on and off by pressing it 5 times quickly. In-between the 2 arrow buttons and the fir button, you will find a small screen which displays your battery level, wattage settings, and the resistance of the coil.
The tank comes with a 1.5ohm GS Air coil pre-installed for you. The capacity of the tank is 2ml and at the bottom of the tank, you will find a rubber ring which you can turn around to adjust your airflow. As long as your airflow is open to some extent, it is completely personal preference. Play around and see what you like best. Some users prefer the draw to be tight whereas others like a more relaxed vape with a fully open airflow.
If you're looking for a device which is going to last all day and give you the option to adjust your settings, then the Arc 5 should definitely be up for consideration!
Specifications:
2ml Capacity
2200mAh Built-in battery
Output Wattage: 1-40W
Atomizer Resistance: 1.5ohm
510 Connection
Contents:
Arc 5 Battery x1
CS Air Slim Tank x1
CS 1.5ohm Coil (pre-installed) x1
USB Charging Cable x1
Instruction Manual x1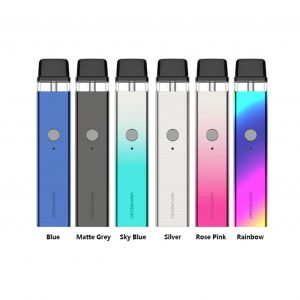 The XROS kit is a fantastic little device that is relatively new to the market, however, it has proven to be extremely popular in such a short period of time, and I too have fallen for it!
I switched from the Caliburn (still a great device) to the XROS and I can only praise Vaporesso for what they have made.
The XROS is a pod system device and you get two pods in the box. One will be pre-fitted for you, and you'll find the spare one in the box. With the pods, you want to simply, pull off the black mouth-piece which will reveal three holes. The hole with the rubber ring is where you fill the pod up – remember to leave it to sit a few minutes before you use it.
The battery is built-in with a capacity of 800mAh. The great thing is, the XROS has been fitted with a USB-C charging port – allowing for fast charging!
There are no settings to worry about, so just put your pod on and vape! It is as simple as that. On the back of the device, you will find a small slider. This is for airflow control and is 100% personal preference to each user. Play around with it and see what you prefer.
Specifications:
Pod Capacity: 2ml
Battery Capacity: 800mAh
Pod Resistance: 1.2ohm & 0.8ohm
Battery Output Power: 11W/16W
Adjustable Airflow
USB-C
Contents:
XROS Battery x1
2 ohm Pod x1
8 ohm Pod x1
Type-C Cable x1
User Manual
Warranty Card
All three of the devices above will produce a more cigarette amount of vapour. They are designed to replicate the same sensation. These devices work better with thinner e-liquid. You can find some suitable ranges here.